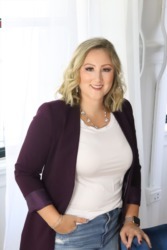 Hey there! 
I'm Jessi!   
I began my real estate career in January of 2017 after years of working in customer service. Working at casinos, waitressing, and graduating Johnston & Wales with a degree in hospitality provided an excellent foundation for my future career in Real Estate. In 2016, I knew that I needed to change pace; I was overwhelmed working multiple jobs, and didn't feel like I was making enough of a difference. I wanted to find a career that would allow me to still work closely with people. I knew that helping others would be something that I not only wanted to do, but needed to do. After I purchased my first home, I was inspired by how much my Realtor helped me. I knew that this was the path I needed to take. I wanted to help others through the process of home buying and selling. I wanted to make it as easy and stress free as I possibly could! 
I poured myself into studying the books, statistics, market trends, and best practices. I was learning everything I could so that I could guide, educate, and provide clients with exceptional service and knowledge. 
I spent 5 years working for a team as a sales associate and transaction manager. I had my hands in almost every single transaction that the entire brokerage did. I was working at a very high volume and intensity. I gained invaluable experience over those 5 years. That experience has allowed me to spread my wings and work as an independent Realtor and put all of my focus into my clients, ensuring that they have all of my undivided attention. During my years on the team, we won awards and recognitions that I am tremendously proud of. This includes awards for platinum volume with NRIBR in 2017, 2018, and 2019. In 2018, I was proud to be recognized at the RE/Max Awards as an "Executive Club" winner for individual earnings. In 2019 and 2020 we were honored for "professional excellence" in RI Monthly. Lastly, in 2021 RI monthly awarded us as the Best Real Estate Company. I will wear these badges with pride as I shift to being an independent agent with June Realty. 
I have, and will always, put education at the forefront of my focus so that I can pass on my knowledge to clients as they navigate the waters of home buying and selling. There is always something new to learn in real estate, regardless of experience! My designations and certifications include: Seller Representation Specialist, Accredited Buyer Representative, ePro, and Real Estate Negotiations Expert. I am currently in the process of becoming a licensed broker. 
I am a lifelong Rhode Island Resident, with family and friends that are scattered all across the state. I love it here, and I love the six-degrees (or less) of separation that we always manage to find with each other in this little corner of the universe. I find that often on showings, I know someone in the neighborhood. My knowledge of RI comes easily because of how large of a network I have. When I'm not working, I enjoy spending time with my extended family and friends. When I find the time, I enjoy redecorating my home, refinishing furniture, and curling up with my Golden Retriever, Spencer, my Pug, Morgan, and a good book.