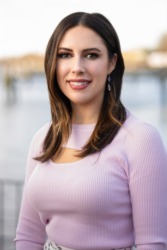 Samantha has a record of successfully guiding her clients with their real estate acquisitions and sales in RI and MA. Her drive comes from her personal goal of providing the American Dream to as many clients as she can. In previous years she has helped anywhere between 45-58 families (10 million+ in volume) a year with any and all of their real estate needs.
 Samantha prides herself in creating lasting relationships with each and every client and has the reviews to back it up! Each transaction and client is different but she has mastered the art of working with and for her clients that leave lasting impressions for years to come. She is true to her tagline that she is turning transactions into relationships. Each sale at a time!
 Her specific areas of expertise are her exceptional negotiation skills and attention to detail. Samantha makes handling multiple transactions at a time look seamless and easy as she has a system in place for just about everything. When it comes time to negotiate her endless amount of contacts are just a phone call away to help give Samantha and her clients the leverage they need. Samantha is also known for her extraordinary communication and entrepreneurial skills. Whether you are a buyer or a seller Samantha will never leave a stone unturned throughout the entire transaction.
 Samantha has made quite the name for herself in the Real Estate industry. She was the #14 performing HomeSmart agent nationally. She was the #1 HomeSmart agent in Rhode Island for closed units from 2016-2020 and #2 ranking Realtor for closed volume from 2016-2020. She has held either the #1 or #2 title at HomeSmart RI consistently since she affiliated with HomeSmart in 2016. Samantha has taken the progressive next step in her career and has opened her own brokerage, June Realty, which will allow her to service her clients with that much more diligence, freedom and detail.
 In her spare time Samantha rescues, fosters and fundraises for local animals in need. In 2015 she co-founded the nonprofit organization Funds 4 Paws RI where she holds quarterly events to help raise funds for animals and rescues.Samantha is also a ballroom dancer and competes in both smooth and rhythm dances in Boston with her partner. On a typical day off you will find her hiking with her dog Penelope or cuddling her two cats Oliver and Sasha!
 Born and raised in Lincoln, RI, Samantha currently resides in Warwick, RI. She graduated Magna Cum Laude from the University of RI with a Bachelor of Public Relations and a double minor in Business and Communications. As a RI native being familiar with the areas throughout the state comes effortlessly to her!
Director at the Greater Providence Board of Realtors
Diversity Committee member at the Greater Providence Board of Realtors
Founder of Funds4Paws nonprofit organization