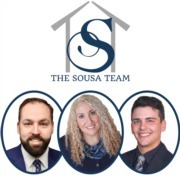 We are The Sousa Team, first established by Cristina and Robert Sousa and now led by Cristina. Like all teams in real estate, we have our own unique and specific qualities that set us apart. Rather than being eachothers competition, they've become each other's support. They work with each client together as a true
team
, each team member having their own designated part of the client's real estate process. What initially brought them together was their individual drives to treat others the way they want to be treated, with respect and empathy along with their willingness to help and educate others. Proudly, this foundation has successfully grown their business with 90% referral based sales each year.
Another unique quality is in part to Cristina's previous experience as a machinist. Those distinguished skills made it possible for her to develop the team's 97-step approach for every client. This approach ensures that the team never overlooks a single thing along the way, giving the client the best of experiences. Their technology forward processes for their communication makes sure everyone stays on the same page each step of the way. No one is ever left in the dark and always knows what to expect next.
The Sousa Team has become more than just a few like-minded individuals in real estate over the years, they have come together as family (in all the good ways). In their "off" time, you can find Cristina in her vegetable or flower gardens, Robert off-roading in his Jeep, Michael on the golf course, or all 3 of them together along with Cristina and Robert's 3 kids.